The residents in Las Vegas have access to one of the most visited and exciting destination locales in the U.S. But tourists passing through for a fun weekend may not realize the number of nuisance pests that call Sin City their permanent home. And among them, termites cause some significant problems for the locals here.
Fortunately, Evolve Pest Control delivers the most advanced pest control in Las Vegas to obliterate termite colonies in record time to help maintain the integrity of your valuable wooden structures. Continue reading to learn more about these insects and how to prevent becoming infested.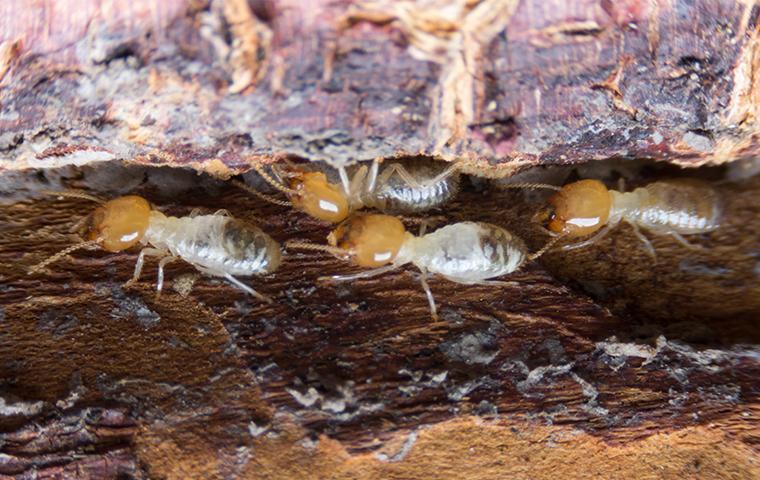 What Are Signs Of Termites On My Property?
You may have seen insect wings in the corners of your window sills and other entry points. If so, they could indicate that you have winged swarming termites on your Las Vegas property. These insects are a clear warning to alert you to a termite problem on the horizon. It's nature's way of giving you a good head start on putting together an active termite prevention plan.
Are you sneezing or experiencing watery eyes and itchy skin significantly more than usual? Termites could be to blame for your misery. As the gift that keeps on giving, these wood-loving, dust-producing insects can trigger severe and persistent allergic reactions along with causing property damage. You may notice your drywall starting to droop and become discolored, and some of your structures may sound hollow when tapped.
If you see any signs of termites in your home, consult a qualified pest control company to schedule a property inspection.
How Termites Can Slowly And Silently Destroy Your Home
Termites do all of their dastardly deeds from the inside out. They work in large colonies within your wooden materials, steadily eating away at it nonstop. Termites never sleep, which means they can cause incredible damage in a short time. Not only do they remain out of sight, but they work in silence, which is why they're commonly referred to as "silent destroyers." The faint rustling sounds that they may make are often unheard or dismissed as nothing. That's why it's essential to partner with a trusted pest service to routinely inspect your home for potential problems you can't see or hear.
Tips To Make Your Home Less Appealing To Termites
Here are some helpful tips to make your home as unattractive to termites as possible:
Termites are attracted to moisture, so address any leaky plumbing issues.
Remove any rotted or water-damaged wood from your property.
Pile lumber, firewood, and logs at least 30 feet from your home's exterior.
Keep your wood materials and supplies elevated off the ground.
Ensure your attics and crawl spaces are well-ventilated and don't become damp.
If you suspect your home is infested with these insects, contact experienced pest specialists who use professional termite treatments.
What's The Best Way To Get Rid Of Termites On My Property?
You may not have thought about it before, but the best way to prevent different kinds of termites from infesting your precious wooden structures and interiors is to partner with a professional termite and pest control company to establish a routine maintenance schedule. This process uncovers the early stages of a budding infestation before it has the chance to spread. The result? A pest-free living or working environment month after month and year after year.
Since 2010, Evolve Pest Control has provided high-caliber pest management solutions that keep our Las Vegas homes and businesses free of pest problems. We deliver exceptional customer service using the most advanced and innovative methods to get the job done right. Our highly skilled staff will keep you well-informed every step of the way. Reach out to us today to request your complimentary estimate.